Yahooo! :-) Tagged again by
A Catholic Mom in Hawaii
!
I lost track of how many saints were my favorite. So here are the saints that came to mind right away. Not counting St. Therese of Lisieux (no offence!) who our group is dedicated to since it's already obvious.
List your four favorite saints, one favorite blessed and someone who think should have been a saint.
St. John Bosco
He could juggle, run races, turn cartwheels, perform magic tricks, and still attend to his duties as a priest! His main goals were helping out the youth. He wrote about the Faith, explaining it in a way that children could understand, then printed his work with his own printing press. For a time, because of his success, some men wanted to get rid of him. As Don Bosco went on his usual walk searching for homeless and unwanted boys to shelter, they ambushed him. Surprising the men and Don Bosco, the rescuer was a huge dog! In thanks for the rescue, Don Bosco offered the dog a home and dinner, but the canine hero had vanished. The dog accompanied Don Bosco on many more dangerous missions of sheltering, teaching, and comforting homeless boys, until the dog left and was never seen again.
St. Elizabeth of Hungary
She's a favorite, but not because she was a princess -ok, maybe a little,-but because of what she did while she was one. We've always been fascinated by the medieval ages. I always liked the story when she would sneak into the chapel to pray when she was little. Even if it was smack in the middle of a game, she went. One of her favorite sayings was "Everything for God"
St. Francis of Assisi
Patron saint of animals! Simplicity, humility, and peace, it's amazing what he achieved. My favorite story is the one when he preached to the birds...or was it fishes?
St. Paul the Apostle
Admirable for his passion in preaching the Christian faith, especially since it was newly founded. That reminds me, I've got to start reading his letters....
Bl. Damien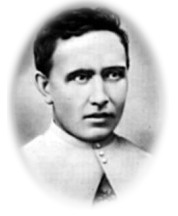 Of course who could forget Father Damien? Especially since his feast day is on May 10th!
CT
, no doubt will have a special post that day. A recent book bought at the Pauline Bookstore renewed our admiration for him. Did you know he got together the children of Molokai, made some musical instruments and started a marching band? The marching band later performed for the visiting princess of Hawaii.
Louis of Thungria
He was the husband of St. Elizabeth. Contrary to what many people think, he was actually very supportive of St. Elizabeth. Everyone in his court disagreed strongly, but he let St. Elizabeth give to the poor and often nurse the ill back to health.


Now, I tag:
or anyone else who wants

Which Saint Are You?


You are Saint Francis of Assisi! You don't care what you look like (or smell like) as long as you can live simply and help the poor. You should be receiving your stigmata any day now.
Take this quiz!





Thank goodness, I've been doing something right!